Congratulate QC Staff Dandan Guo on Winning the Championship in the Host Competition
Views: 7 Author: Site Editor Publish Time: 2015-07-07 Origin: Site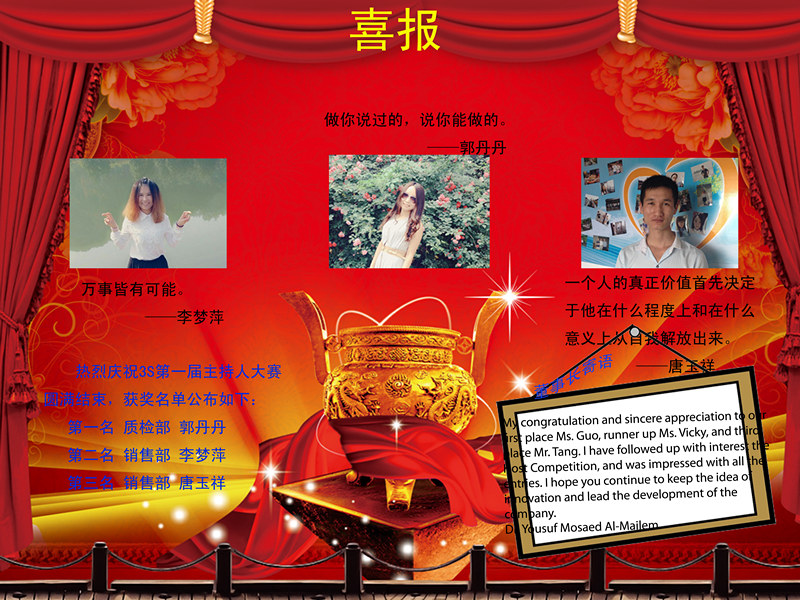 The host competition had lasted for several weeks which is held by our company. It started from June 4th and got a good ending yesterday. In this competition, Our QC staff Dandan Guo won the championship finally. Salesman Vicky got the second place and salesman Yuxiang Tang won the third place. Congratulations to them!
Champion
:
Name
: Eileen Guo
Dept
: Storage and Transportation Dept
Motto
: In the inner heart would live a best me, she often rethinks and does an adequate preparation for
the next step.She move ahead happily and firmly believes that the tomorrow will be better in 3S.
Runner-up
:
Name
: Vicky
Dept
: Sales Dept
Motto
: Ideal is the beacon. Without ideal, there is no secure direction; without direction, there is no life.
Many thanks to 3S for giving me a very good platform, to help me achieve the ideal, specify the direction.
Tomorrow will be better.
Third
:
Name
: Lance Tang
Dept
: Sales Dept
Motto
: Beauty, wit, birth, vigour of bone, desert in service, love, friendship, charity are all subjects to
envious and calumniating time, save time, be the host of time and grow with 3S.